Professional Article
Cosmetic Verse Plastic Surgery - What's The Difference?
---
Knowing How To Choose The Right Professional For You
---
Both cosmetic and plastic surgery aims to improve your appearance or repair defects. So what's the difference? How do you choose the right doctor for your needs?
The short answer to the difference comes down to three things: training, research and goals. Let me explain.
The Misunderstanding
A survey conducted in 2017 and reported in the "Journal of the American Society of Plastic Surgeons" found that of 5,135 people, 87% thought that surgeons had to have special credentials and training to perform cosmetic procedures or to advertise themselves as aesthetic, cosmetic or plastic surgeons. Over half didn't understand the requirements to be "board certified".
In fact, there are different types of board certifications and it helps to understand these.
Cosmetic surgeons don't need to be certified in cosmetic surgery to call themselves that. Interestingly, any doctor from a heart/lung transplantologist to an oral surgeon can perform cosmetic surgery. While there are organizations that certify cosmetic surgeons, there is no requirement to be certified.
Plastic surgeons must be credentials by the American Board of Plastic Surgery (ABPS) which requires 6 to 8 years of specific training in an accredited plastic surgery program.
Cosmetic Surgery
Generally, cosmetic surgery focuses on enhancing your appearance in some specific way. This includes aesthetic appeal, symmetry and proportion and can be applied to any part of the body.
Any medical doctor (including plastic surgeons) can perform cosmetic surgery if they have sufficient training as it requires no specialized training or certification. There are some excellent cosmetic surgeons and as with any profession there are some very bad ones as well.
Common cosmetic procedures include facial contouring, breast enhancement, rhinoplasty (nose jobs), face, eyelid, neck and brow lifts, liposuction, laser resurfacing and filler treatments.
Plastic Surgery
Generally, plastic surgery focuses mainly on repair, reconstruction and achieving normal function and appearance. The source of targets for correction include birth defects, trauma, burns and disease.
Many plastic surgeons also perform cosmetic surgery.
Because of this, plastic surgery requires specific training and certification. Examples of plastic surgical procedures include: breast reduction, burn repair, congenital defect repair, hand surgery, cleft palate repair and more.
Understanding The Difference
Here's a graphical representation of the relationship between cosmetic and plastic surgery: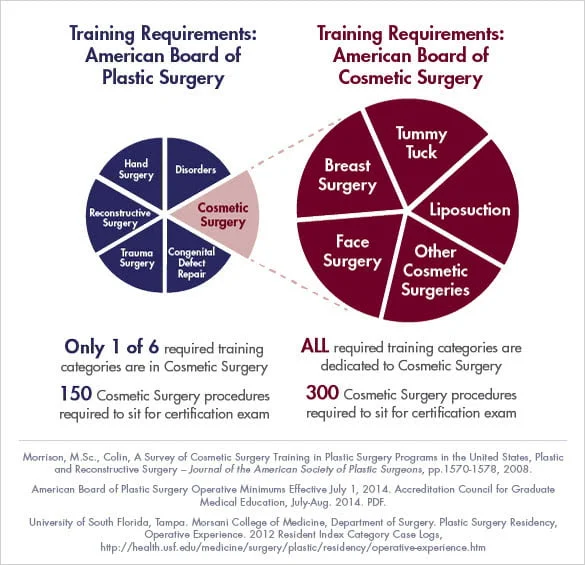 Graphic Provided By: ABCS
How Do I Choose?
When you seek specialized care, always consider your unique needs. Choosing the right surgeon might be a matter of costs, availability of insurance, experience, type of procedure or many other factors.
Try to find specific examples of the work you want with before and after photos. The doctors who have results closest to your goals are usually very good choices.
Rankipedia makes this easy, of course, by letting you explore all this information and much more.
Be sure to reach out to doctors who's work you like and ask more questions - also easy to do with Rankipedia - just use direct-messaging found in both the listing and doctor profile pages.